We all have passions in our lives. Perhaps yours is the ocean, sailing, or just reading about these topics. Below is a selection of clocks to address interests in ships, seas, and sailing.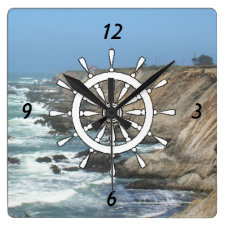 Clock - Ships helm
by
bkmuir
Browse other
Ship's wheel Wall Clocks
Clocks are an important part of modern day life. What time do we get up, go to work or school, eat meals, keep appointments. There are many forms of timekeeping devices. Our new cell phones have built in time clocks. Public spaces may have clocks on posts or built into buildings/towers. At home there is the electric alarm clock, the clock and timer on the oven, etc., etc.
This selection of wall clocks has the modern mariner in mind. Sail boats, signal flags, compasses and much more are in this group.
Designed by the shopkeepers at Zazzle, made by Zazzle, you won't find a finer reputation for quality goods, customer service and speedy delivery.
(This may take several moments to load)